Missoula Strikers and Soft Landing Missoula partner to support refugee youth team
We often say that soccer – or, as those of us at Soft Landing are learning to say, football – needs no translation. People from all over the world arrive in Missoula, and despite everything they have endured to get here and what can be a difficult transition to an entirely new home, put a soccer ball in front of them, and much of the tough stuff seems to fade into the background.
Soccer is the most popular global sport, by far and away. Some estimates suggest that over 240 million people around the world play, and the number of fans soars into the billions. When refugees arrive in Missoula, one of their first questions is where to find a field and fellow players for a pickup game.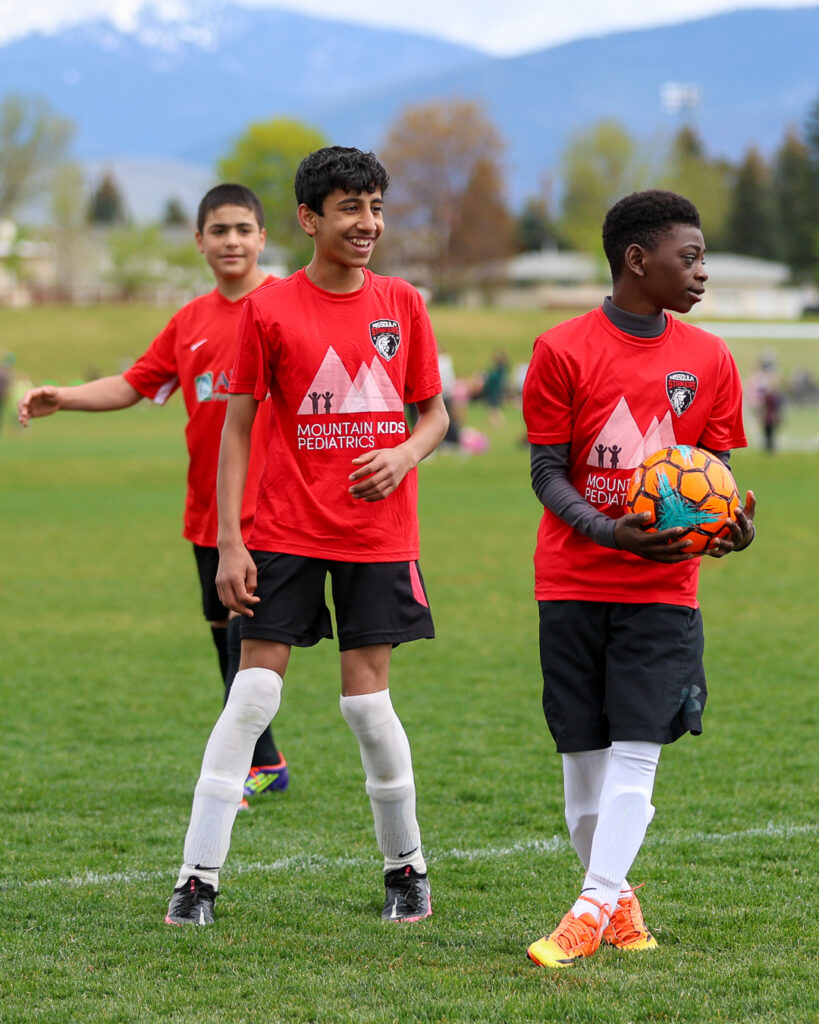 Missoula Strikers has helped to create this opportunity for kids and teenagers in the community for decades. The nonprofit focuses on developing a love of the global game and building talent among youth players by facilitating recreational teams and regular play throughout the year. Since the earliest years of Soft Landing, the Strikers organization has been an integral partner in making soccer – a vital resource for mental health and social connection among refugees in Missoula – accessible to new neighbors.
"Since the first refugee family arrived in Missoula, Strikers has been committed to making soccer accessible," said Molly Cottrell, co-founder and deputy director of Soft Landing.
Though Strikers has made program participation free for refugee families for years, this year the support went even further. A school counselor at a local Middle school had heard from multiple refugee students that they wanted to play on a team with their fellow refugee students, and she reached out to Joe Larson, the program director for Missoula Strikers, to see what he could do.
An exciting idea emerged: Strikers would provide two coaches for the team – Joe and Charlie from Soccer Alliance Missoula, another local group that brings together soccer organizations to reduce barriers to the game – and Soft Landing would organize volunteers to help with communication with refugee families and provide transportation. (For many refugee families, transportation is a huge barrier to participation in recreational programs outside of school hours, so this is a major help).
"We appreciate their long partnership and love that it was elevated this year," Molly said.
Joe raved about his experience coaching a team of refugee players. Thirteen students participated in the spring season, practicing once per week and playing each Sunday. He knows firsthand about the role that sport can play in helping any individual, but especially a refugee or immigrant, find his way in Missoula. His brother-in-law arrived in Missoula during the 1980s from Vietnam.
"Youth soccer is something that helps individuals become better humans," Joe said. "For refugee youth, it's something more familiar than traditional American sports and hopefully helps with easing their resettlement in Missoula."
While refugee students have participated on other Strikers teams in the past, the idea to have a team of people who share similar lived experiences came directly from kids themselves. It speaks to the power and comfort of spending time with people who might understand a little bit more about you and your life, who speak your language, or who can understand the things you've been through – a familiarity made all the more valuable when so much of life in Missoula might still feel new and different.
"Whether they were born in Syria or Missoula, the motivation is the same," Joe said. "They just want to have fun and play with their friends."