Grill smoke wafts into the air at Fort Missoula, carrying the distinct smells of meats cooked over charcoal into every corner, the sure sign of a good summertime party. Colorful flags drape the pavilion's brick pillars, and smaller versions dot the picnic tables. A steady drumbeat of music from Djebe Bara reverberates throughout the space, creating a pleasant backdrop to the persistent hum of conversation and laughter. Off in the distance, soccer players zip up and down the field, the bright hues of their jerseys a stark contrast to the earthy green of the turf and the blue sky above. There's face-painting, a balloon animal station, and Sweet Peaks ice cream scoops doled out at warp speed. 
All this can only mean one thing: World Refugee Day in Missoula!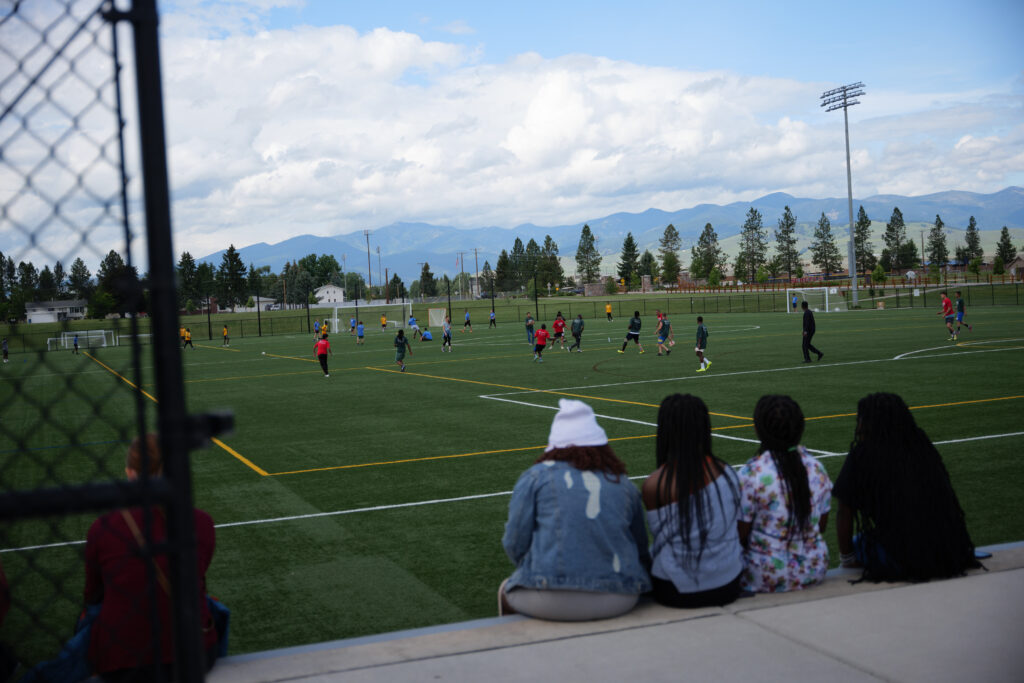 June 20th is a day designated internationally by the United Nations as World Refugee Day to honor the lives, experiences, strength, and resilience of refugees around the globe. Such a celebration helps to focus global attention, at least for one day, on the realities facing people who have been forcibly displaced from their homes, and to shine a light on their full personhood — including not only their pasts, but their present and future rights, needs, and dreams. 
Here in Missoula, we hosted an annual gathering – really, a big ole party – to bring refugees, immigrants, partners, volunteers, and other community members together to celebrate this experience. Our event this year took place on June 17th at Fort Missoula – and it was our biggest ever! Nearly 450 people turned out to support and uplift the refugee experience and honor the journey.
For those of you who couldn't make it, believe us when we say it was SO fun! For those of you who were able to attend, THANK YOU for being there!
The United Nations first commemorated World Refugee Day in 2001. June 20th was selected as the date to acknowledge the 50th anniversary of the 1951 Refugee Convention, the cornerstone of global legal protection for refugees and the somber, but necessary recognition of their place as one of the most vulnerable groups of people in the world. The 1951 Convention defined 'refugee,' outlined the assistance a refugee is entitled to receive — such as housing, work, and education — and formed the basis of the UNHCR's work that continues today. 
The Convention was born of the crisis facing millions of people forced to flee their home countries in the wake of both World War I and World War II. Today, the number of forcibly displaced people around the world exceeds 100 million, nearly 33 million of whom meet the legal definition of 'refugee' set forth by that 1951 Convention. More than 72% of people displaced are originally from Syria, Venezuela, Ukraine, Afghanistan, or South Sudan.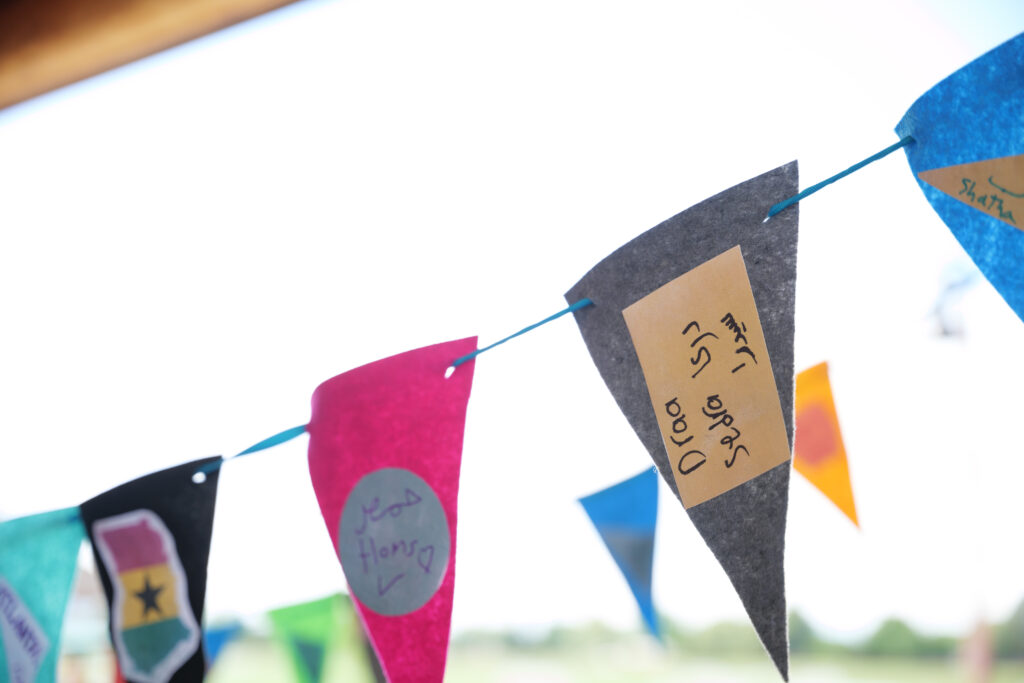 For Soft Landing Missoula, World Refugee Day is one of the most powerful, inspirational, and joy-filled moments of our year. We have learned so much from refugee community members about how they view the day as a celebration — of where they come from, where they are, and where they are going — so we strive to create moments that speak to these milestones.
We are grateful and honored to share in many of those moments, chief among them World Refugee Day. This year's event was filled with soccer, delicious food prepared by the United We Eat kitchen and chefs, music, and time spent building community with so many Missoulians, including new neighbors and longtime residents.
United We Eat prepared a bonafide feast: Eritrean lentils from Chef Takea and injera from Chef Merry; Afghan kofta from Chef Farida; Congolese goat skewers from Chef Moses; Syrian shish tawook (chicken) from Chef Shaza; Guinean spicy chicken soup from Chef Oumar; and a number of spreads, veggie sides, and coffee from the kitchen staff.
PHEW! It was delicious, and we heard from so many people that they loved getting to experience a variety of cuisine from around the world all at once. Kids also loved the falafel wraps from Kamoon and the slices of piping hot 'za from Bridge Pizza!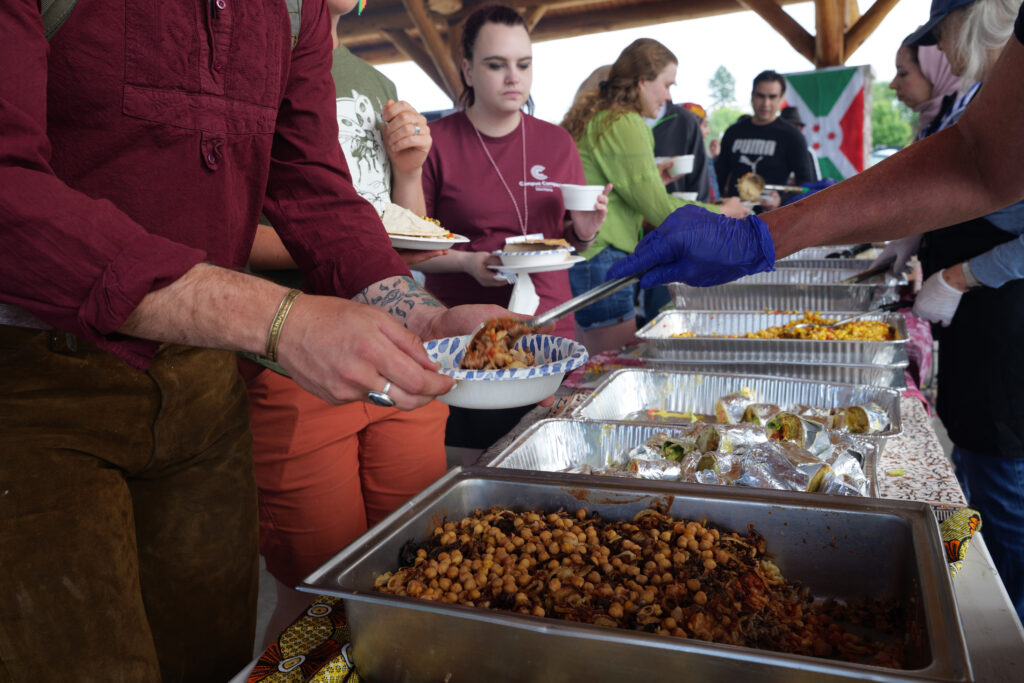 We were also grateful to have a number of community organizations attend the event, providing information and ways to get involved or access services. The City of Missoula sent a number of representatives, including Mayor Jordan Hess and the Fire and Police Departments.
Our soccer tournament included four teams with the championship match being a clash of the titans between two of the squads that had dominated the field for most of the day. Winners were gracious, but very excited to don their medals throughout dinner!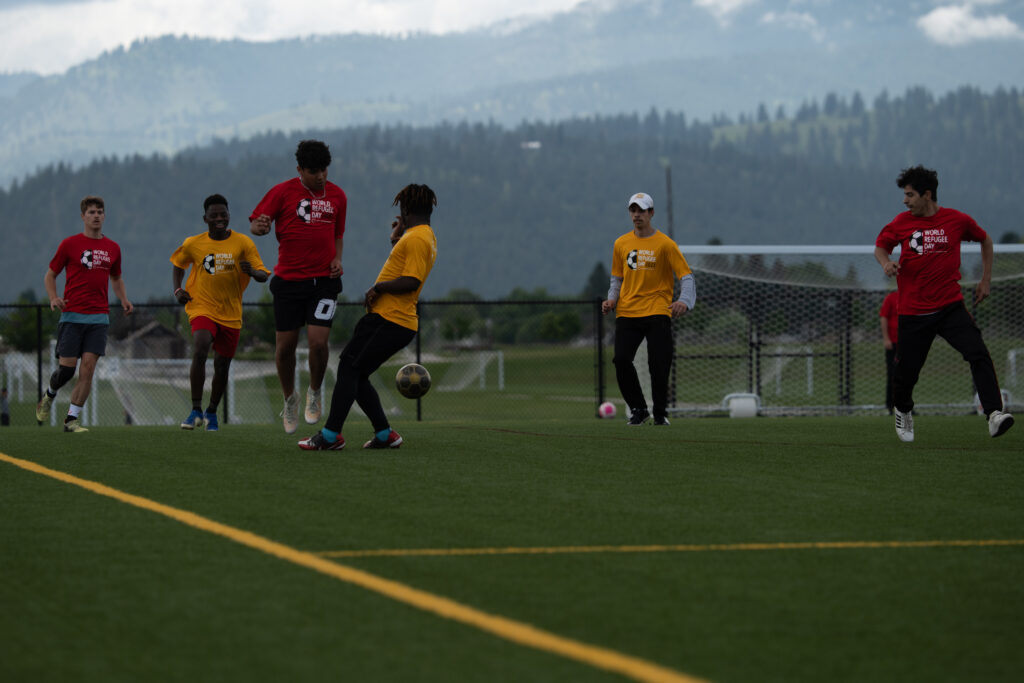 None of this would have been possible without the invaluable participation of volunteers and sponsors. Volunteers spent hours with us in service of this larger celebration. They stood in front of hot grills so people had freshly cooked skewers to eat; moved picnic tables and decorated the pavilion; sold merchandise; provided transportation; and so much more.
And Lead Sponsors Clearwater Credit Union and ATG, a Cognizant Company, were instrumental in giving us the financial support we needed to pull off an event of this scale so successfully. 
As Missoula Mayor Jordan Hess said during his remarks at the event, this community is much stronger and greatly enriched thanks to the immense contributions of refugee neighbors.
Thank you to everyone who continues to support this work of Welcome – this World Refugee Day and every day!