If you're able, please consider donating a used car to make an extraordinary difference in the lives of new neighbors.
Upon arrival to Missoula, many refugees and immigrants quickly realize that many of the places essential for them to access – their workplace, their kids' schools, the grocery store, doctor's office, pharmacy and more – aren't necessarily close to one another. While the bus system helps, anyone who has relied on it as their sole form of transportation knows that it can make trips longer or more cumbersome. Add to it a language barrier, lack of familiarity with a new city and Montana's often extreme weather conditions, and many families find themselves simply staying put or spending hours traveling from place to place.
It comes to no surprise to those of us at Soft Landing, then, that we field many questions about how to drive in this country. We work with many clients to help them obtain their Montana drivers licenses, but that's only half the battle.
Even with a license, most families don't have a car – and getting one means a hefty payment that few new neighbors can afford. We've been fortunate to receive a number of donated cars throughout the years, and we see how these generous gifts make an immediate and material impact on a family's life.
To put things into perspective, here is a typical day-in-the-life for a newly arrived refugee family in Missoula: Dad has work at 6:00 am. He carpools each way with a coworker. Mom wakes up and helps her four kids – two old enough to be enrolled in school, two more still infants – get ready. The older two catch the bus to school, and then she walks with her babies to the nearest bus stop, usually no closer than a quarter-mile to head to daycare. The trip requires one transfer to the childcare facility, and then she hops on a third bus to get to her workplace. She does it all again after work.
All told, this family spends 90-minutes or more traveling between essential stops when it could take 15 minutes in a private vehicle. And that's just for one day's necessities! During the winter, this voyage includes frigid temperatures and icy sidewalks. Come summertime, the walks are typically more pleasant, but waiting for the bus in smoky air or scalding afternoon heat takes a toll.
Having a car is a huge lift off of families' shoulders. And, just as critically, it affords them the freedom connect to their new home more deeply, through activities we all love like going to the park, visiting with friends, and getting to know their new community!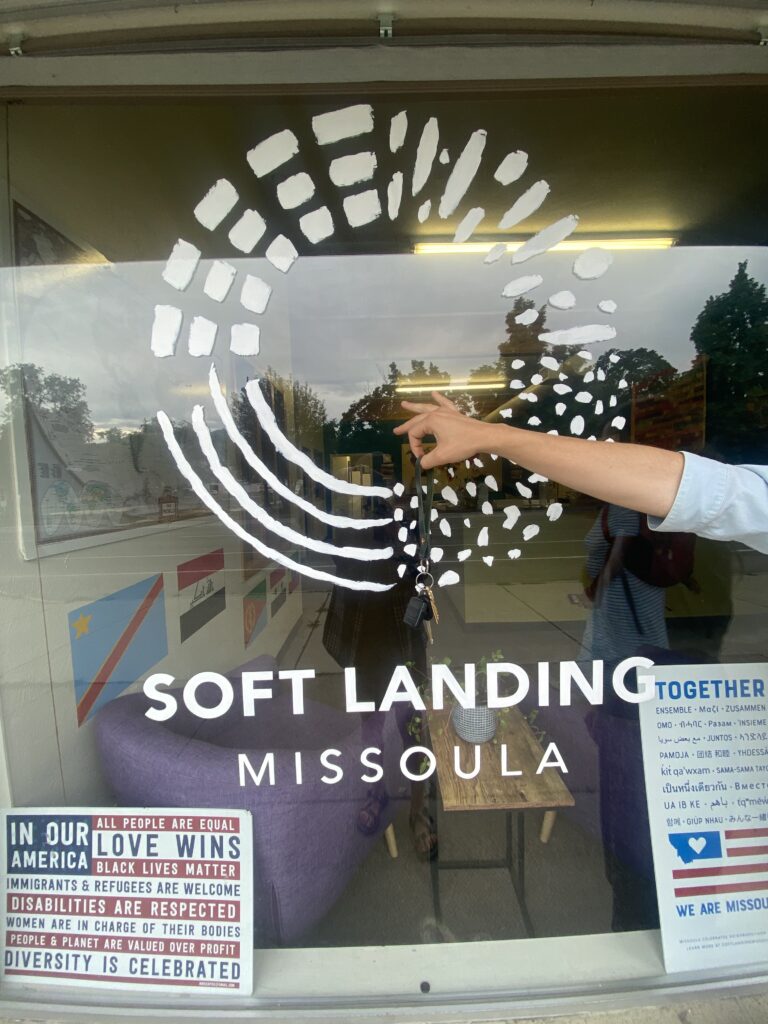 Soft Landing maintains a long waiting list of families who need a car. At any point in time, we have about 15 families whose lives would be meaningfully improved with more reliable transportation and the independence it affords. And that list is only growing as more and more people are resettled in Missoula.
We're turning to you, this generous and supportive community, for help! If you or anyone you know is looking for a way to make a difference for a refugee or immigrant neighbor in Missoula and also happens to have a car you're looking to offload, please consider donating it to Soft Landing. We would be extraordinarily appreciative!
Donated vehicles should be in good working condition. Many of the families we work with have limited funds for repairs. Once we learn of a new donor, we reference our waiting list and let the family know about the good news. They are always elated. 
Because of our non-profit status, Soft Landing cannot take ownership of the vehicle, which means we are unable to provide a donation receipt. We do help in the vehicle handoff as well as help the family/client navigate registration and insurance. Please reach out with any questions to Greta Bates at greta@softlandingmissoula.org.