"This is the best day of my year. I wish we could have a World Refugee Day party everyday."

Afghan father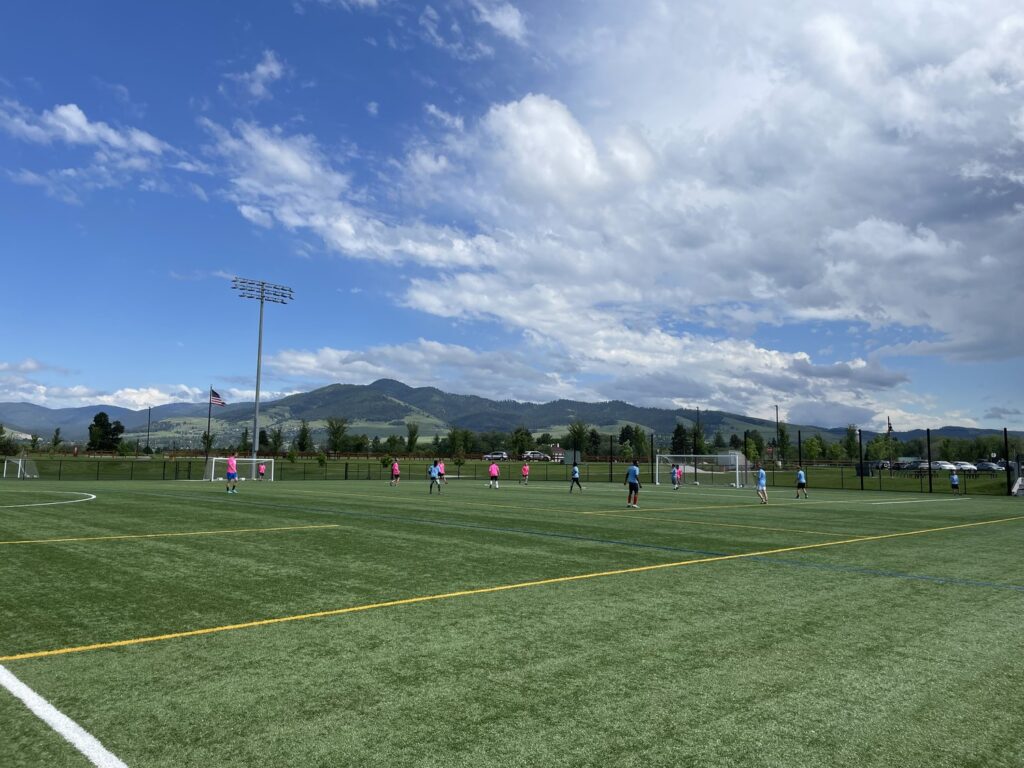 June 20 marks World Refugee Day, a global commemoration established by the United Nations to celebrate the experience of refugees across the world and a time to honor the joy, experiences and resilience of this incredible community. Here at Soft Landing Missoula, we host an annual weekend gathering to commemorate the day centered around what we consider three universal languages: food, music and soccer.
It's our favorite day of the year because we get the chance to bring together all kinds of amazing humans – refugees and immigrants who call Missoula home, staff members and their families, volunteers, community partners, and many more! This year's event was no different, but it might have been even more exciting because it was the first World Refugee Day celebration in three years that wasn't significantly compromised by the COVID-19 pandemic.
We were truly overjoyed to spend the day with families and friends – those we've known for years and those newer arrivals we've only recently met. This year's event swelled to roughly 250 people, and it was one heck of a party!
The afternoon began with pick-up soccer games at Fort Missoula, followed by food and a musical performance by Djebe Bara, a community drum and dance group led by Oumar Keita, originally from Guinea. Throughout the day, people participated in a craft project in which they could pin their journey to Missoula on a large wooden map using safety pins and string. Music and dancing lingered into the evening and people from different countries mixed it up on the drums and the dance floor.
As is the case with so much of the work we do at Soft Landing, the World Refugee Day celebration would not have been possible without the generous support of community partners. The International Rescue Committee provided food, the Missoula Alliance Church helped with transportation, the City of Missoula and its Police and Fire Departments offered both outreach and support (the fire truck was a huge hit with kids and adults alike!), and a number of local service providers – including Buckle Up Montana, Let's Move Missoula, and Moving Mountains – tabled at the event to connect with attendees about their offerings within the community.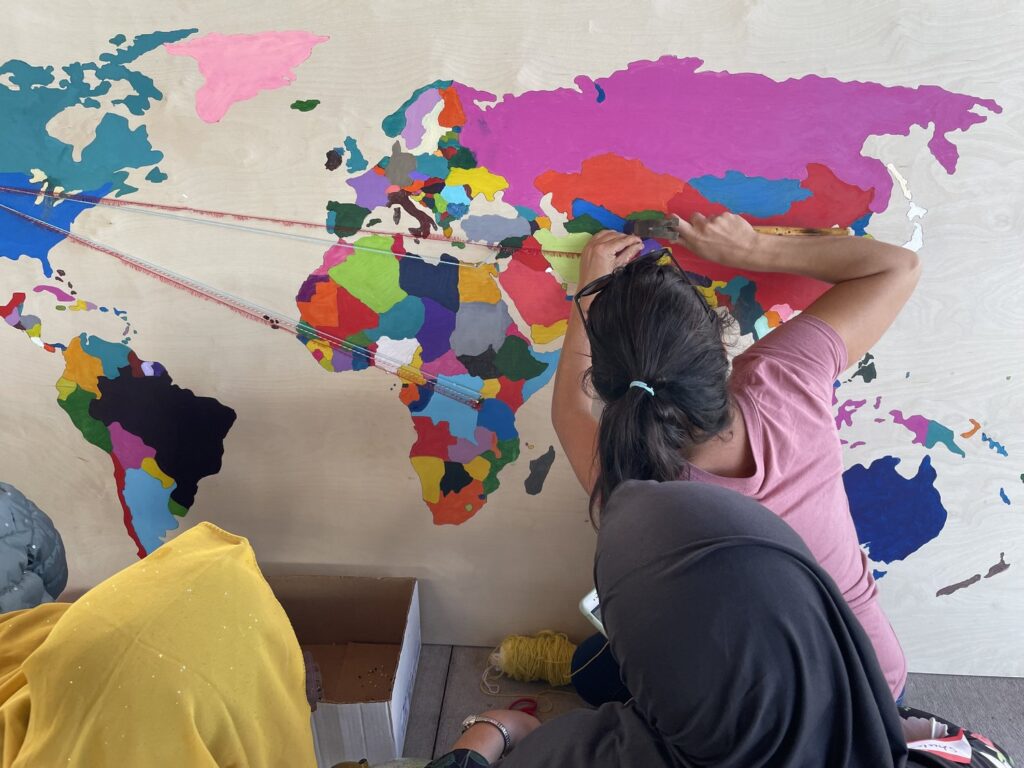 Below are a few reflections from those who attended that reflect the joyful spirit of the event!
"The skies threatened and the wind blew cold, but our community was undeterred. Soccer was played! Food was eaten, including a special blend of ice cream created in collaboration with the Big Dipper. People traced their journeys to Missoula on a huge multicolored map. And at the end of the night, our very own Chef Oumar and his drum and dance band, Djebe Bara, played. Kids free-ranged all over the dance floor. Then several Congolese women shimmied out. A few minutes later, a line of Afghan men danced onto the floor. Those drum beats were irresistible! I sat and held my daughter as she dripped ice cream all over me and thought about all that these folks had to get through to arrive at this moment in Missoula MT, dancing together under the mountains."

Beth Baker, United We Eat Program Manager
"We gathered the more than 50 soccer players into a big circle to welcome them and lay a few ground rules before breaking into teams. We decided to count off by 4's in order to make the 4 teams, which it turns out is a distinctly American thing to do. The players fumbled and giggled their way through counting by 4s, helping confused neighbors remember their numbers. By the time we got around the circle, everyone was laughing. As teams broke off and handshakes and high fives were given with new teammates, I realized we had more than 10 different countries of origin represented on the field. Once on the field, all those differences melted away into the common language of soccer."

Molly Cottrell, Deputy Director of Soft Landing Missoula
"World Refugee Day is good because you get to see people your same color. Having many people around who are the same as me makes me feel less alone."

Congolese middle-schooler
"My favorite moment was when a Congolese man was playing music from his country and then all the people from different countries started dancing. This made me feel the merging of cultures together and that everyone is welcome."

Rozan Shbib, United We Eat Kitchen Assistant
"I loved it when a young Afghan man got to take a turn on the drums. He looked like he was levitating. He had the biggest smile on his face. It was awesome."

Maria, Soft Landing Missoula Donor Engagement and Impact Director
"There are many things I like about this day. I get to interact with people from other cultures. I see their clothing, their food."

Afghan woman and United We Eat chef
"I loved it when Paul Mwingwa from the Democratic Republic of the Congo gave a welcome to the crowd, beginning with a greeting of "hello" in everyone's native language."

Mary Poole, Executive Director of Soft Landing Missoula