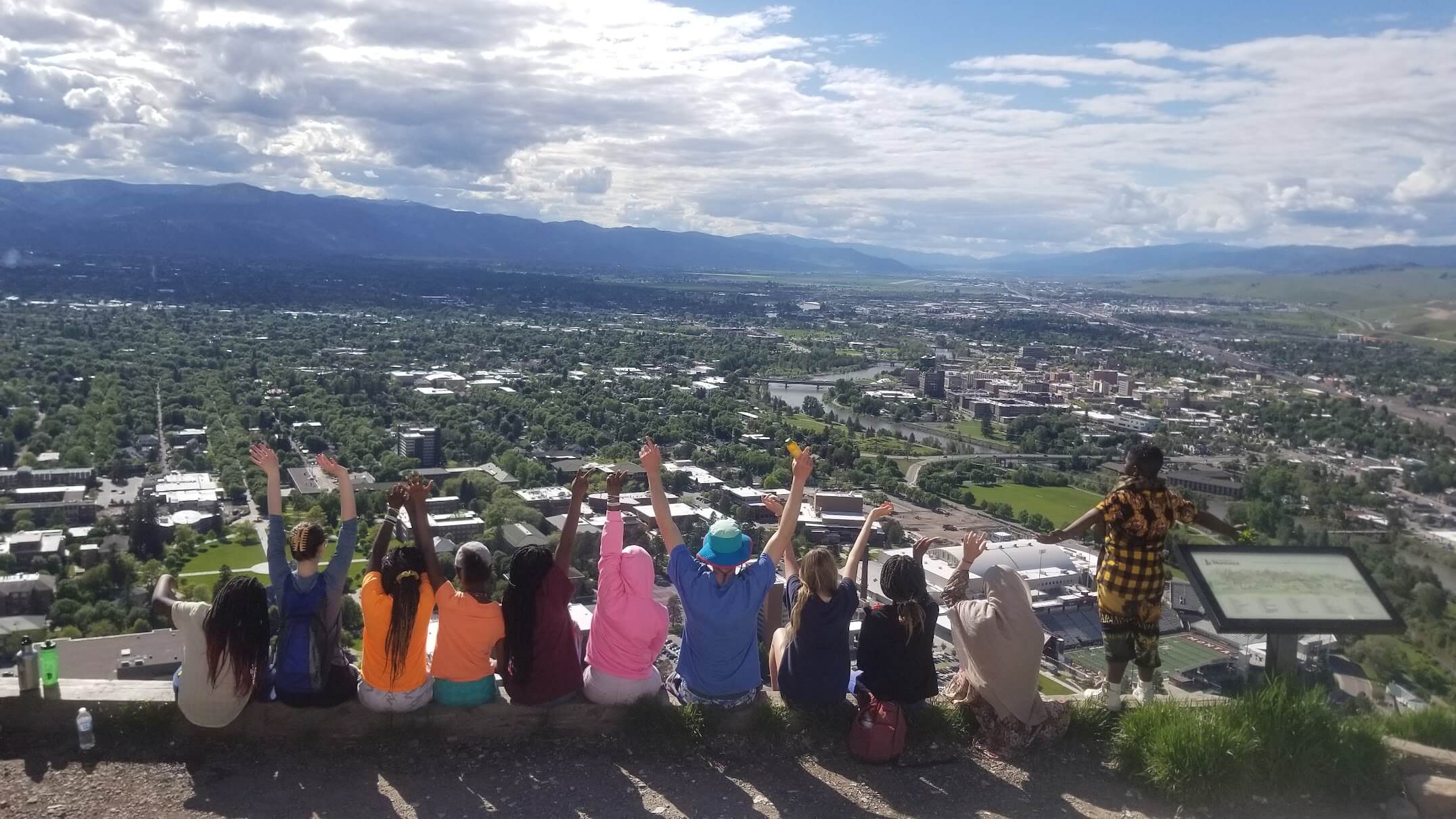 Jobs, Internships, Other Opportunities
What started first as a group of friends and then as a small team of two people has grown to 12 (and counting!) staff members that make the work of Soft Landing Missoula possible. We love what we do, but we value employees as people first and prioritize balance and joy in our workplace. See below for current opportunities to get involved!
Open Positions
Driver's License Navigation Intern
Outreach and Communications Manager
Outreach and Communications Manager
The ideal candidate for this position has excellent writing skills, a strong understanding of ethical storytelling, experience in the planning and implementation of social media and other online forms of communication, and experience in planning events. We are looking for a creative and curious person who is engaged in current events, highly organized around variable deadlines, able to both collaborate and work independently, and thrives while connecting with staff and clients.
Job Description: The Outreach and Communications Manager is an essential part of Soft Landing Missoula's mission to create a welcoming and informed community where refugees and immigrants can thrive. This position aims to increase the organization's outreach capacity by supporting leadership and programs teams to share stories of our work and presenting pertinent and clear information to the greater Missoula community, including advocating for the needs and interests of refugees and immigrants in Montana. This position plays a part in engaging and growing our community of supporters through social media, newsletters, and events. Through all outreach activities, Soft Landing Missoula focuses on ethical storytelling and a client-first mindset.
The Outreach and Communications Manager works very closely with the Executive Director to promote the mission and voice of the organization.
This individual will join a passionate, collaborative, and fun team and will be an integral part of helping Soft Landing Missoula increase its ability to serve a growing number of refugees and immigrants while also furthering Missoula's capacity to be a welcoming community.
Reports to: Executive Director
Benefits: Generous benefits package includes health and dental insurance (individual premium paid in full by Soft Landing Missoula), 12 paid holidays, 4 weeks paid vacation, 2 weeks paid sick leave, parental leave, and flextime in a friendly office that believes in an appropriate work/life balance.
Wage: 30-32 hours / week at $22.00 / hour
Work Environment: After a period of training and integration working primarily in the Community Center /office, this staff member has the flexibility to design a hybrid work arrangement that works with overall organizational staffing needs. Occasional night and weekend hours required.
About Soft Landing Missoula: Since 2016, Soft Landing Missoula has partnered with our community to provide supportive services and welcome for refugees and immigrants in Missoula, working together to create a home where new neighbors can integrate and thrive. We believe in a world where refugees and immigrants have opportunity, dignity, and the freedom to build the life they wish to live as members of a welcoming community. Our values of community, equity, creativity, kindness, trust, and joy guide in this work of welcome. 
Soft Landing Missoula operates as a project of Social and Environmental Entrepreneurs, a 501(c)3 nonprofit organization providing fiscal sponsorship.
Core responsibilities:
Planning and Implementation of Communications
Stays up to date on current events relevant to our mission and collaborates with ED as the "voice" of the organization for both the public and SLM Staff.
Help craft a monthly newsletter with the Executive Director
Manage and implement a communications calendar
Manage social media comments and community building
Act as point person for media requests and work with media to tell SLM's story
Utilize Canva for basic graphic design as needed
Collaborate with staff in order to highlight the work done in Soft Landing program areas
Take the lead on website maintenance, accuracy, and content updates
Work with ED to advocate locally, statewide, and nationally for refugees and immigrants when needed
Marketing of Soft Landing Missoula
Keep an up to date branding guide
Contribute to the creation and management of marketing and fundraising materials such as brochures, infographics, impact reports, appeals/thank yous, and merchandise.
Assist with coordinating and delivering on sponsorship recognition and reporting for special events.
Planning of Events and Special Projects
Take the lead on the coordination and organization of small and large public-facing events as assigned.
Attend, participate in, and report on SLM events
Provide opportunities for client-directed storytelling
Preferred qualifications:
A minimum of 2 years experience in leading outreach efforts for a nonprofit organization or other applicable field;
Ability to establish and meet deadlines and experience in setting and achieving outreach goals;
Comfort and ease interacting effectively and compassionately with a wide range of individuals from diverse backgrounds;
Passion for refugee resettlement and immigration in Missoula, experience working in a multicultural environment;
Exceptional attention to detail and accuracy with a commitment to good customer service, confidentiality, and accuracy of sensitive records;
Strong written and verbal communication skills;
Skilled in managing large-scale projects with the ability to work independently and part of a team to accomplish tasks and make processes along to achieve a larger goal;
Self-motivated with the ability to prioritize and manage multiple projects simultaneously and meet deadlines;
Proficiency with office technology, including Microsoft Office, Google Suite, MailChimp, Canva;
Knowledge of and values alignment with contemporary movements in ethical storytelling
To apply: Email resume, one-page cover letter and list of 3 references to mary@softlandingmissoula.org. PDF format preferred.
Not sure you meet 100% of the qualifications? We recognize that potential candidates with identities that have been historically excluded from the outreach field may be less likely to apply for jobs unless they meet every one of the qualifications as described in the job description. If you believe that you could excel in this position, we encourage you to apply. 
Application review will begin in November 2023 and applications will be accepted on a rolling basis until the position is removed from the Soft Landing Missoula website job openings page. We are hoping for a start date in early 2024.

Advisory Council Members
The Soft Landing Missoula Advisory Council is an invaluable and critical component of the implementation of SLM's mission through the offer of experienced organizational guidance, community connection, and ambassadorship. Although guidance brought by the SLM Advisory Council is non-binding (SLM is a fiscally sponsored organization and legally, this must belong only to our fiscal sponsor's board) we have chosen and are committed to the participation of a local Advisory Council to provide critically important insights and guidance brought by diverse perspectives from our own community in order to strengthen our organization and our mission.
Goals of the SLM Advisory Council
Organizational guidance

: Nonprofit expertise; program and mission evaluation through lived experience; strategic and goal setting guidance; financial guidance, leadership guidance

Community connection and ambassadorship

: Be an ambassador for SLM in the community; fundraising and friendraising; suggest new Advisory Council members; provide connections to new community partners; grow SLM's footprint and influence in Missoula
Structure of SLM Advisory Council
6-8 Members
One (1) year term with the possibility of being invited to renew for five additional one (1) year terms. Key Leadership roles are also assigned each year.
The Advisory Council will meet every other month for 2 hours (commit to attend 5 of 6 meetings).
We estimate that the SLM Advisory Council members will need to be able to commit to a minimum of 2-4 hours each month. Key Leadership roles should be prepared for an additional 2 hours each month.
Please fill out this form to express your interest and/or email mary@softlandingmissoula.org for further information. We hope to recruit new members to start their term of service in early 2024.

Driver's License Navigation Intern
Job Description: Looking for an intern to work 6-15 hours each week for a minimum of one semester. The Intern will join Soft Landing Missoula's dynamic non-profit organization as a team player, focusing primarily on general support for refugees navigating earning their driver's license and registering and insuring a new car. They will work in a fast-paced, interactive office environment to help SLM enhance its ability to serve a growing number of resettled refugees and continue to increase Missoula's capacity to be a welcoming community. This position is flexible, with some off-site hours and occasional night and weekend hours. The ideal candidate can commit to 2-3 days a week, 3-5 hours at a time.
Preferred Qualifications:
Have a passion for refugee resettlement in Missoula and beyond
Have a proven ability to establish and meet deadlines, multitask, and prioritize
Have a working knowledge of the Missoula community and resources
Have the ability to interact positively with a variety of people
Have the ability to work independently and take initiative to follow through
Have the ability to transport clients (preferred, but not necessary)
Responsibilities:
Interact with clients and community members who come into our community resource center
Maintain set office hours to work directly with clients
Assist clients with scheduling of permit and driving tests with the DMV
Assist clients with accessing study materials and pairing them with study buddies to prepare for the written exam
Work with Director of Family Engagement to create useful translated study materials that are in ELL-friendly formats
Facilitate twice a month study groups at Soft Landing Missoula
Assist clients with understanding paperwork and documents needed to obtain a license
Provide transportation for clients for their scheduled appointments as needed
Help clients to navigate the process of obtaining insurance and registering a new car
Assist high school aged youth to sign up for Driver's Ed at school or form study groups that are accessible to them
To Apply: Submit an email of interest and resume to molly@softlandingmissoula.org. This position is not financially compensated, but may be eligible for a stipend upon successful completion of the internship.


Welcome. Celebrate. Share.